Home, Sweet Home. The Story of the North Fork Scrapbook
The North Fork Scrapbook
I am a photographer. My livelihood depends upon beauty being valued, upon beauty being considered an economic asset. I make my living photographing the beauty of landscape, lightscape, wildlife, geology, the interplay of all these. I photograph many other things besides beauty, but what sustains me both financially and spiritually is the beauty of Nature. When I learned of the imminent leasing for potential oil and gas drilling of the patches of public lands interwoven among our towns, our farms and ranches, our watersheds, and views, like many residents here, I felt my livelihood and quality of life threatened.
Our small community rallied. Local groups like Citizens for a Healthy Community  and  the Conservation Center responded to the December 7, 2011, announcement from the U.S. Department of Interior's Bureau of Land Management (BLM) with a campaign to inform the public and generate comments. Meetings in each of our three small towns drew capacity crowds of hundreds, who grew hushed, and gasped as one, when they saw projected on the screen the boundaries of the lands in question.  And members of the community came together—each bringing unique skills and passions to the cause. I set out to craft a photo document, a scrapbook, for the first round of public input into the BLM.  Eventually this scrapbook would make it to Washington DC, along with the stories it told—contributed along with photographs from dozens of local families, farms and ranches.
But when it all started no one in the valley knew how the BLM's proposal might play out in our communities. We just all agreed we needed to do something: these were lands that include sheep and cattle grazing permits, favorite hunting and fishing grounds, hiking and biking trails; lands bordering our farms, orchards, vineyards, ranches, homes, schools, playgrounds; lands that contain our watersheds; lands we see and love every day, live our lives on, and earn our livelihoods adjacent to and among.
Besides writing a comment letter, I wanted to do more to aid the community effort to prevent the industrialization of our wonderful valley, our home, sweet home.
I first thought to go out and photograph all 22 parcels, to somehow represent in photographs what's at stake. Then I realized, "It's winter: images will all be black and white and grey. I could look through my past photos and see if I have any of some of these parcels…"
And then it hit me: we all have pictures of these lands that we love.
So I solicited the help of some other photographers, and I composed a letter and asked the Conservation Center and CHC to include it in their next emails:
 Dear Friend,
I am a photographer working with other North Fork photographers to compile a collection of photographs to send to the BLM as a visual statement of why the North Fork Valley lands cannot be leased for oil and gas exploration. A number of us are out now shooting the places, people, and lifestyle activities that would be adversely affected by drilling, truck traffic, and water usage on both ends of drilling…
… In short, if you feel you'll be negatively affected by leasing, please send a photograph showing why. Please include the name of the photographer, the subject of the shot ("my home," or "my neighbors' cattle," or "mountain bikers on Jumbo"), the location of the shot (street address, or "center of parcel # ___", etc.), its relation to a specific parcel # if that's not in the location (adjacent to parcel # ___, or "we ride horses here all summer")…
I will compile these shots into a printed "scrapbook" of our valley, and create a digital slideshow, to hand deliver to the BLM office in Montrose by the February 9 comment deadline…
Pictures poured in one after another for the next month. Pictures that still today, remembering, bring me to tears. I pulled from my own extensive collection of photos taken on and around public lands in this valley, and so did more than 50 other people. Their captions captured their concerns, their love of the land, and their understanding of the threats to their quality of life posed by drilling.
Photo by Jim Brett
These captions noted which lands were being proposed for oil and gas drilling and how they related to the activities in the photos, and in local families' lives.
Photo by JT Thomas
These patches of public lands, these 22 parcels totaling 33,000 acres intermingled with our private, county, and municipal lands, are essential in their current undeveloped state to our quality of life, and to our valley's 21st Century economic drivers. These include:
Agriculture: Thriving family businesses in the valley include orchards and farms, many sustainable and organic, and a ranching cooperative dedicated to holistic resource management and "clean" meat. From Princess Beef to Delicious Orchards to the brick oven Bakery at Small Potatoes Farm, a great many residents depend on local agriculture for sustenance. These values are captured in photos like the image above from the Miller's home on Lamborn Mesa, looking out across at Municipal Lands, Lease Site 6197 (two locales).
Tourism and recreation: Public lands in our valley serve as fertile hunting grounds for sportsmen at substantial financial gain for the state as well as the local economies. National and State Parks, State Wildlife Areas, BLM and Forest Service lands bring visitors from all over the world to take in the Gold Medal rivers, mountain bike trails, fresh air and scenic wonders of the North Fork. A rapidly growing agritourism industry boasts award-winning wineries, farm-to-table dinners, and a local Slow Food movement, among other draws.
Smith Fork Ranch photo
"Fly fishing is a key activity at the Smith Fork Ranch. Runoff from construction and a poisoned watershed would have a detrimental effect on this element of our guest experience, thereby affecting our livelihood. We have 3 private miles of the Smith Fork which run adjacent to parcel 6200, and three stocked ponds that feed off of it."
The Farmers' Market is just one event of many during Mountain Harvest Festival that brings people from all over the country to celebrate harvest, music, and community in the North Fork Valley.
Photo by David Jacobson
Creative arts: The Blue Sage Center for the Arts, the Creamery Arts Center, the Paradise Theater, and many other community endeavors support a surprising number of artists, authors and musicians living here as well as touring through. Each town hosts at least one major fair or festival a year
Photo by Vendla Stockdale
"Hotchkiss High School cheerleaders in an exuberant jump at the school field, with parcel 6198 in the dobes just past the grass. This education and recreation complex includes the public swimming pool, the Montessori School, and a community playground. What can the BLM do to guarantee that our children, born and unborn, will not suffer sickness, defects, or death? Evidence mounts daily that drilling is a fundamentally toxic process."
Health and wellness: For decades the Valley has drawn a great variety of alternative health practitioners to settle here. Hand in hand with growing organic agriculture and chemical- and drug-free meat production, the healing business has generated and contributed to a health-conscious lifestyle now integral to our community.
All these arguments were made, sublimely, in this scrapbook I undertook. Other values and areas of concern that emerged from the photos people sent include wildlife, clean air and clean water, property values, infrastructure maintenance, geological grandeur, and other aesthetic and spiritual values; and above all, concern for their children's health and future.
Representative images and explicit captions came in daily for a month, showing all the uses and attachments of our public lands which are interspersed, I say again, among our playgrounds, our swimming pool, our farms and ranches, apiaries, wineries, fishing holes, water supplies, back roads, in short, our homes.
I persist in mentioning this concept of these nominated parcels as adjacent and among because it is crucial to the argument that this valley is of greater economic value as it stands now, in the direction it is going, without risking the many potential impacts  of oil and gas drilling. Our economy depends upon the beauty and values captured in these photos; the very fact of so many people taking these pictures over the years attests to the value of these public lands.
                                                             Photo by Ty Gillespie
And so I began organizing images and ordering supplies, and I set to scrapbooking. I moved to this valley twenty years ago for several reasons, among them the beauty of the landscape, but foremost, Community.
I had traveled few places coast to coast where I felt such a palpable sense of Community. As so many have before and since, I fell immediately in love with this place.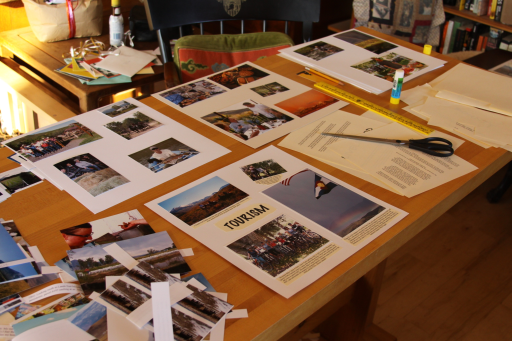 During the six weeks that I worked on the original scrapbook, I felt ever more deeply the love of this community.
Love flowed from these people, these images; all the love my neighbors have for their place flowed into my embrace.
Friends and former strangers called to see how they could help, brought food, donated paper, delivered glue sticks or sent gratitude.
Inspired by this well of love, I worked the last week in a frenzy, pondering and organizing, printing and sorting, typing and clipping and trimming. When the last page was finished, I celebrated.
The next day at a rally, I delivered the Scrapbook as a Visual Comment to the BLM, knowing that I would never see it again. That it would become part of the permanent record, that it would disappear into the archives of a federal building somewhere, that it might spend eternity gathering dust on a shelf or buried in a box, and never again see the light of day.
But I made a copy. I set to work the next week and made a copy, and the copy has seen the world. With a delegation of valley residents, the Scrapbook traveled to Washington, D.C., and it's been to Denver a couple of times on behalf of our valley. Along the way it told its story—much larger than a comment in a comment period.  A story of a community that is willing to stand together to tell its story about what makes it a special place, a place worth protecting.
That story is an inspiration.  And a template for this blog.
So now the Scrapbook has returned home to our community, and begins a journey into the boundless digital community just in time for another round of citizen engagement. Its story can hold out hope that where a community stood united before it can do so again. And this blog can be a new medium for telling the story about Colorado's North Fork Valley, and the special and unique values that deserve consideration.
Thank you for reading our story. Please enjoy and find inspiration in our blog.
Got anything to say? Go ahead and leave a comment!
You must be logged in to post a comment.
Subscribe to Blog via Email